Apple Expands Browser-Based 'iTunes Preview' Functionality to Include App Store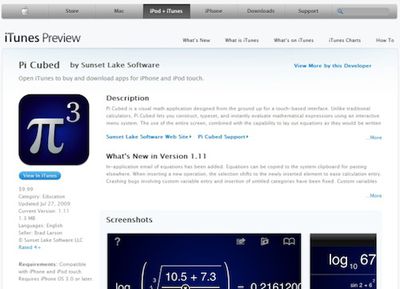 TechCrunch reports
that Apple has expanded its browser-based 'iTunes Preview' functionality to include pages for App Store applications.
To see this for yourself, open any direct link to an iPhone app (example) in your favorite Web browser.
You'll notice that instead of only throwing up a dialog box prompting you to confirm that you wish to launch iTunes on your desktop, you'll see a nice page with the app logo, price, description, screenshots, rating, reviews and more in a new window or tab.
Simultaneously, iTunes will be opened and you'll be directed to the app's detail page in the App Store.
iTunes Preview was launched last November, offering users the ability to view iTunes Store music content in their browsers without the need for iTunes to be separately installed. The functionality was later updated to allow users to listen to 30-second song samples, although users remain unable to actually purchase content though iTunes Preview.
While Apple's iTunes Store has always been something of a proprietary browser, the company has only recently made a significant push into the real browser environment itself. With Apple's recent purchase of streaming music service Lala Media and rumors of the Lala team being deployed to develop a cloud-based iTunes, Web browsers appear poised to play an even greater role in the iTunes experience.