Apple 'Magic Wand' Remote System Patent for Apple TV Resurfaces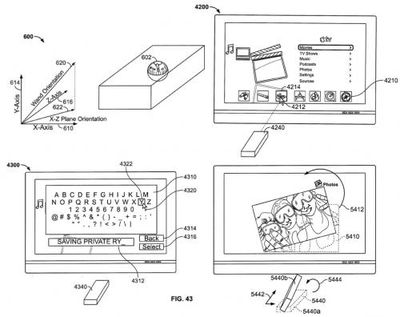 Apple
updated
an existing patent application today that describes the implementation of a
previously dubbed "Magic Wand"
remote control to provide a more natural control experience when navigating a product like the Apple TV. Readers will recognize that many of the described technologies work like the Nintendo Wiimote. Similarly, Apple describes the use of a accelerometers as well as fixed points of reference to determine the movement of the remote. Other
patent applications
in the past have shown us more of this research coming out of Apple.
Naturally, the use of this "Magic Wand" could be used to browse media, fast forward/rewind, rotate images and even zoom in and out by moving the wand closer or further from the screen.
A remote wand for controlling the operations of a media system is provided. The wand may be operative to control the movement of a cursor displayed on screen by the position and orientation at which the wand is held. As the user moves the wand, the on-screen cursor may move. The user may use the wand to control a plurality of operations and applications that may be available from the media system, including for example zoom operations, a keyboard application, an image application, an illustration application, and a media application.
We don't necessarily think Apple would introduce a standalone Wii-like remote system, though there have always been persistent rumors of a much enhanced version of an Apple remote control. Apple has already integrated some advanced remote control features into an iPhone App that takes advantage of gestures and accelerometer controls.