App Store Download Statistics Suggest Strong iPod Touch Holiday Sales
MobileCrunch reports on data from mobile analytics firm Flurry showing very strong App Store download performance coming from iPod touch devices, suggesting a strong holiday season for Apple's premier iPod line. On Christmas Day, Flurry's data saw download volume from iPod touches increase nearly 1,000% from pre-Christmas levels, spiking well above comparable iPhone downloads, which typically lead iPod touch sales by a considerable margin.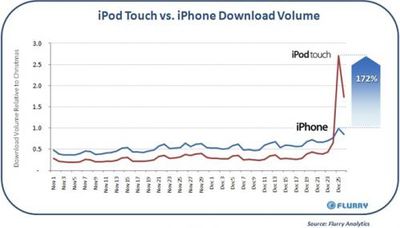 Overall, Flurry's data reveals 51% month-to-month growth in App Store downloads for December using forecast data for the remaining days of the month. Google's Android Market also experienced strong month-to-month growth of 22%, but was unable to match Apple's performance, at least in application downloads.
The apparent tremendous boost in iPod touch-based App Store downloads was not unexpected, as similar indicators of strong iPod touch sales were seen last year.