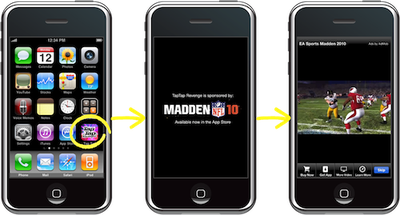 Mobile advertising firm AdMob today
announced
that it is launching interactive video advertising for the iPhone and iPod touch. The ads, which will be available as either auto-play or click-to-play implementations, will begin appearing in a limited number of top App Store applications.
For the first time, mobile video is truly interactive as weve included customizable in-player action buttons enabling consumers to engage with Web content and more video content without leaving the video player. Advertisers can also include action buttons that open the app store and iTunes store to drive downloads of branded content. This ad unit helps advertisers and agencies extend their existing campaigns to mobile by using video assets created for other mediums and overlaying interactive elements in the highly measureable mobile environment. Advertisers can opt for action buttons that allow users to share video content with their friends or connect to social networking sites within the video player, making it easy to add a social media element to their campaigns.
Video ads will begin as soon as the user launches an application targeted by the ads and will include buttons that will allow the user to perform such functions as viewing related Web content, directly accesings the App Store for the product being advertised (when applicable), or viewing additional video content. Users may also skip the advertisements at any time to proceed to their desired iPhone application.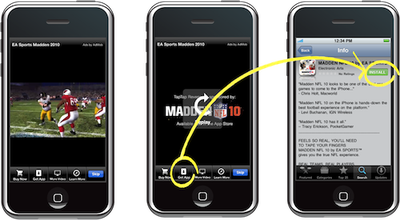 Google
announced
last week that it has agreed to acquire AdMob for $750 million in stock. In a follow-up story yesterday, it was reported that Apple had apparently
also considered
making an offer for the company in the weeks before Google's announcement.