Overview of Apple's New iPod Touch-Based EasyPay Retail Store Checkout System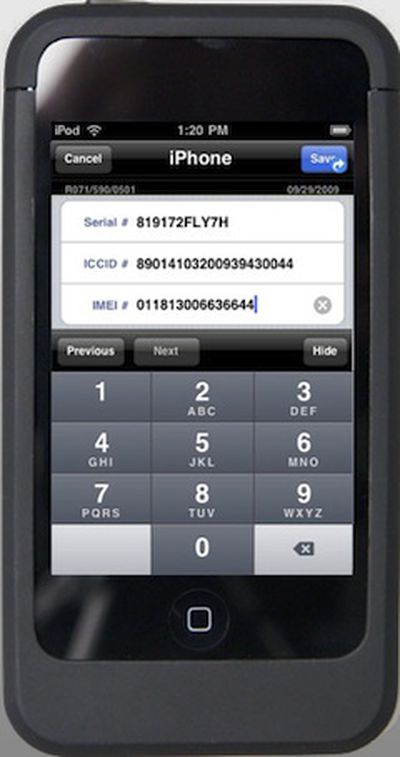 ifoAppleStore
's Gary Allen posts a
preview
at
AppleInsider
of Apple's new iPod touch-based EasyPay checkout system for its retail stores. The preview comes after
last week's news
that Apple is beginning the process of rolling out the new devices to replace the existing Windows CE-based EasyPay handheld systems.
The new iPod-touch based system consists of an integrated hard plastic shell housing the iPod touch, a magnetic stripe reader for credit cards and a barcode scanner for scanning product information. The shell also includes a hidden rechargeable battery to power the auxiliary hardware.

Barcode Scanner and Magnetic Stripe Reader
Credit card transactions will reportedly be handled entirely on the EasyPay device, with customers using a stylus to enter their signature electronically on the iPod touch.

Debit customers will need to swipe their cards and enter their PIN numbers at separate terminals located throughout the stores, but the remainder of the checkout process can be handled on the EasyPay device. Cash transactions using the EasyPay device will be rolled out at selected stores over the next six months and will allow sales associates to use the EasyPay system to electronically access any of several cash drawers scattered about the store to complete transactions.
iPhone purchasing and activation has also reportedly been integrated into the new system, allowing sales associates to enter customers' calling plan and add-on selections and permit customers to review and sign the terms and conditions required for iPhone purchases. The system can also be used to process many returns, locating purchase records via the barcode on the customer's receipt, product serial number, customer e-mail address, or credit/debit card number and generating a credit to the customer's account.