Apple Exploring Ad-Supported Operating Systems?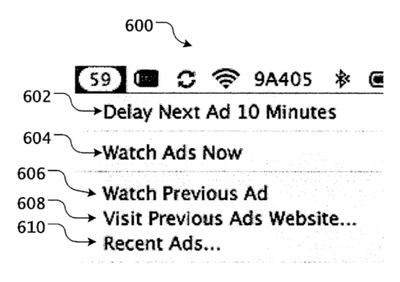 In an
unusual patent application
filed in 2008, Apple explores the possibility of integrated ads into an operating system. The graphics provided even show how it might be integrated into Mac OS X (see above). In exchange for the ads, the user would receive some goods or service for free or discounted:
Among other disclosures, an operating system presents one or more advertisements to a user and disables one or more functions while the advertisement is being presented. At the end of the advertisement, the operating system again enables the function(s). The advertisement can be visual or audible. The presentation of the advertisement(s) can be made as part of an approach where the user obtains a good or service, such as the operating system, for free or at reduced cost.
In the late 90's, ad-suppprted products including getting free computers were offered to customers in exchange for viewing advertising, though the practice has since fallen out of favor. It's unclear if Apple had any real intentions for the concept, though Steve Jobs is listed as one of the inventors of the patent.
Of interest, Microsoft is reportedly working on an ad-supported version of Microsoft Office.