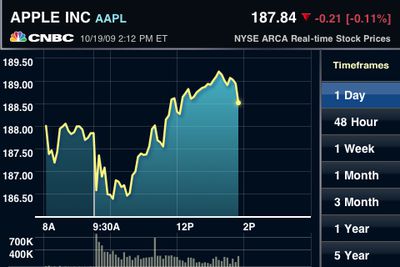 Financial news channel CNBC has launched
CNBC Real-Time
[
App Store
, Free], a new iPhone application offering comprehensive news and data on the financial markets, including real-time stock quotes before, during, and after trading hours.
Only CNBC delivers Live, Real-Time Stock Quotes before, during and after stock market hours direct from the NYSE and NASDAQ, company specific news, videos, profiles, returns and key metrics. Plus CNBC's exclusive breaking business news allows you to stay on top of the markets no matter where you are. All this plus interactive charts, US and World indexes (Dow Jones, S&P 500, NASDAQ and more), commodities, currencies, pre-markets, and video-on-demand. You can even create your own stocks watchlists.
Push notifications included in the application allow CNBC to deliver breaking financial news directly to users' devices as it occurs. The application also offers access to over 150 news clips published each day from CNBC's television coverage.