NPD: U.S. Mac Ownership Grows, But Nearly 85% of Mac Households Also Own Windows PCs
According to market research firm NPD's 2009 Household Penetration Study, approximately 12% of U.S. computer-owning households have an Apple computer, up from 9% in last year's study. But of these Mac-owning households, nearly 85% of them also own at least one Windows PC.
Multiple computer ownership is a common thread in Apple computer households, with 66 percent of households owning three or more computers, compared to just 29 percent of Windows PC households. Apple owning households are decidedly more mobile as well, with 72 percent of them owning a notebook, whereas only 50 percent of households that have a Windows PC own a notebook.
The study also notes that Apple households tend to be more affluent than average computer households, and Apple owners also tend to own more types of consumer electronics devices (and twice as many of them) than the average computer-owning household.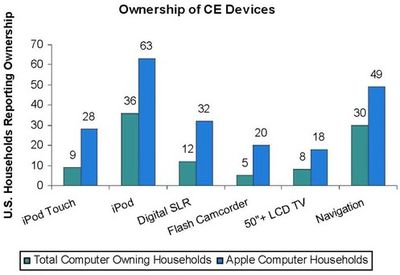 Source: The NPD Group/2009 Household Penetration Study
The study notes that because these characteristics place Apple owners at the forefront of consumer electronics, their purchasing decisions can be valuable to the industry as a measure of upcoming trends and popular products.