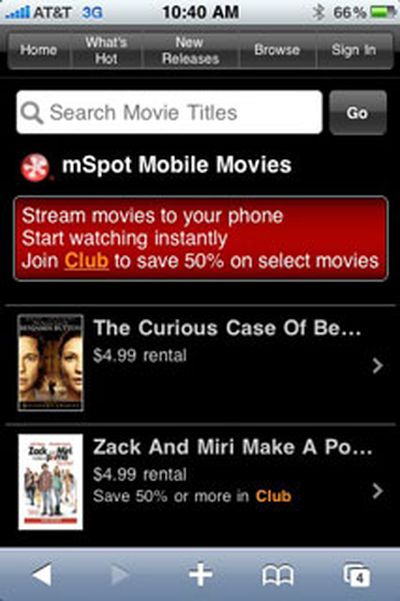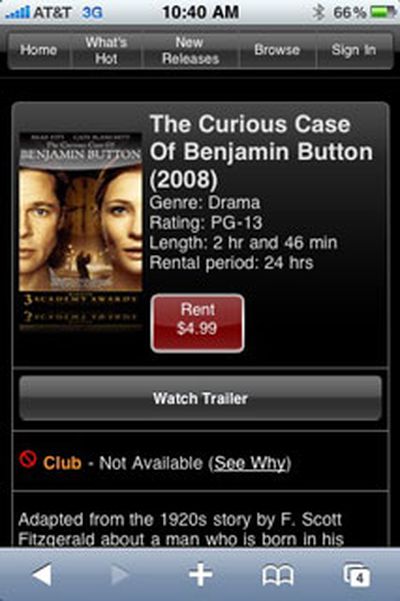 TechCrunch reports that mSpot, a company that provides ringtones, music, and video for mobile devices in the U.S. and Canada, is now offering streaming movie rentals that are viewable on the iPhone and other mobile devices. Movies are accessed via mSpot's mobile site and payment can be made via credit card to rent movies individually or sign up for a monthly subscription plan. At launch, mSpot offers 350 movies for streaming from major production companies including Paramount and Universal.
Individual movie rentals cost $4.99 and rental periods vary from movie to movie, though they are at least 24 hours and movies can be watched an unlimited number of times within the rental period. While browsing available movies, trailers can be viewed easily. A rental savings Club is available that offers a variety of monthly subscription levels, starting at $9.99 per month for 20 credits, which will purchase 4 movie rentals, up to $15.99 per month for 40 credits, which will purchase 8 movie rentals. Not all movies currently available can be rented through a Club subscription - these can only be rented la carte. mSpot is currently offering a special of 15 free extra credits in the first month of Club membership. Credits expire if they are unused one month after purchase and there is no cancellation fee to leave the Club.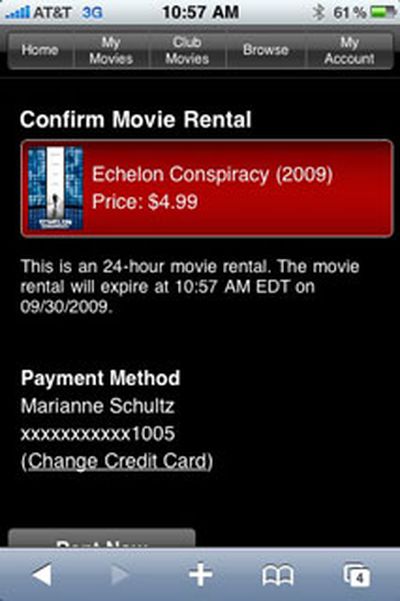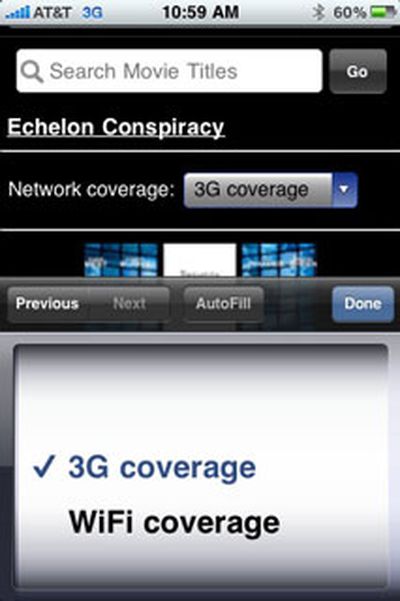 mSpot recommends that users have an unlimited data plan with their cellular service provider given the large amount of data required to stream a full-length movie. Movies are viewed using the iPhone's native video player, which is launched automatically from Safari and the current connection type (3G or Wi-Fi) can be selected before viewing a movie to provide the appropriate level of buffering. Movie rentals are only available to iPhone and other mobile device users in the United States. mSpot has beat Netflix, who has stated that it will offer its services directly on the iPhone "eventually," to the market in providing this service to iPhone users in the U.S.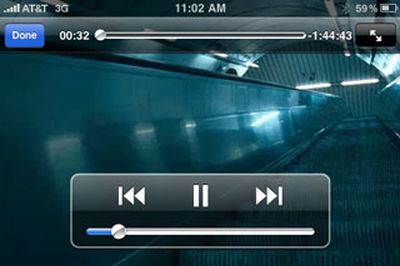 Viewing a streaming movie rental