TomTom Car Kit for iPhone Appears in Apple's European Online Stores [Updated]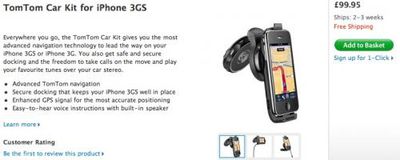 TomTom's much-anticipated iPhone GPS car kit has appeared on a number of European Apple online stores, including the
UK store
. Scheduled to ship in 2-3 weeks, the kit is priced at 99.95 (US$164.10) in the UK and 99.95 Euro (US$147.90) in other European countries, which includes the TomTom iPhone application.
Did you notice?
You get both the TomTom navigation app for your iPhone 3GS or 3G and the docking kit to hold your iPhone securely in place on your dashboard or windscreen.
Details on the car kit, including the user guide, were posted to the U.S. Federal Communications Commission's site late last month. The kit, which had been expected to be launched this summer, was pushed back to an October release earlier this month.
TomTom's car kit contains an external GPS receiver and other hardware features and has been claimed to be compatible with the iPod touch and other GPS iPhone applications from other vendors, but Apple's product description makes no mention of compatibility with those offerings.
Update: The car kit has been removed from Apple's online stores, and Macworld UK reports that TomTom has issued a statement noting that the price does not include the software.
TomTom has sent out a short press release after our story which confirms the car kit does not include the TomTom for iPhone application.
"TomTom announces today that the TomTom car kit for the iPhone will have a recommended retail price of 99.99.
The TomTom car kit will be available this October and will be sold separately from the TomTom app. It will be compatible with the iPhone 2G, 3G and 3GS."