AT&T 3G MicroCell Site Goes Live, Monthly Fees to Be Up to $19.99? [Updatedx2]
Engadget Mobile reports that AT&T's 3G MicroCell site has gone live as the company is apparently preparing to launch its service that will allow wireless subscribers to utilize their home Internet connection for enhanced voice and data coverage. The news comes on the heels of an anonymous report that service for the new device will cost up to $19.99 per month for unlimited minutes, although users with either AT&T home phone or Internet service will be charged $9.99 per month and those with both home phone and Internet service from AT&T will be able to utilize the 3G MicroCell service for free.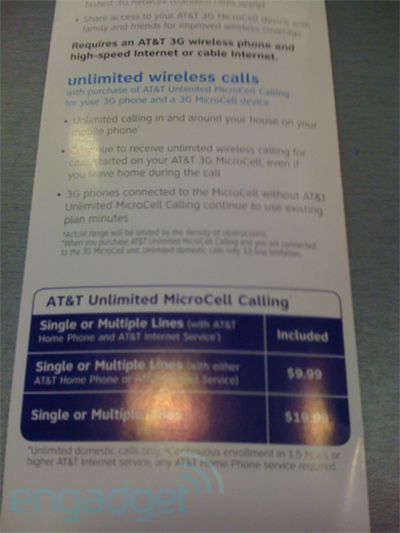 Signs of iPhone compatibility with the 3G MicroCell service
surfaced
in an AT&T carrier settings update issued in early February, and AT&T reportedly
confirmed
in June a launch of the service by the end of 2009.
Update: Engadget now reports that the 3G MicroCell service is currently only running as a "public trial" in Charlotte, North Carolina. The $19.99 per month pricing is reportedly also a part of the trial, so apparently no final decision on pricing for the full rollout has yet been made.
Update 2: GearLog clarifies that the 3G MicroCell device costs $150 and that, besides the monthly "unlimited minutes" charges, users also have the option of using their monthly wireless minutes for no additional charge.
According to an AT&T rep in Charlotte, the MicroCell costs $150 and service is free (heck, you're saving AT&T money by using it) unless you sign up for AT&T's "unlimited talk" option, which gives you unlimited minutes of calling over your microcell. That costs an extortionate $20/month, though it also gets you a rebate on your device.