Microsoft Launches Zune HD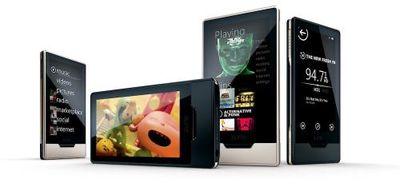 Microsoft today
officially launched
the Zune HD, the company's next-generation touchscreen media player designed to compete directly against Apple's iPod touch. Originally
announced in May
, the Zune HD is available in 16 GB ($219.99 in black) and 32 GB ($289.99 in platinum) capacities.
Zune HD marks a significant step forward for portable media players, combining powerful hardware components such as an organic light-emitting diode (OLED) multitouch screen, an NVIDIA Tegra HD processor and HD Radio capabilities with software advancements such as the new Quickplay menu, a well-featured Web browser, and engaging music and video playback features to deliver a new portable listening and viewing experience. Quickplay is a new signature menu for Zune, putting customers one touch away from the content they love, such as favorites, last played items and media most recently added, eliminating the need to dig through menus to find the music, videos, pictures or podcasts they want.
Microsoft has also confirmed that the company will be adding games and other applications to the Zune Marketplace for use on the Zune HD.
Later this year, Zune plans to release free applications such as Twitter for Zune and Facebook for Zune, in addition to fun 3-D games such as "Project Gotham Racing: Ferrari Edition," "Vans Sk8: Pool Service" and "Audiosurf Tilt." Games can be added to Zune HD via Zune Marketplace over the Wi-Fi connection or when connected to the Zune PC software.
Wired offers a first-look review of the new device, finding it a worthy competitor to the iPod touch with solid potential, but in need of additional features such as Mac support, greater video offerings, and of course a robust application store.