iPod Touch Speed Tests Confirm Apple's Claims of 'Up to 50% Faster Performance'
At Apple's "It's Only Rock and Roll" media event last week, the company introduced new iPod touch models with 32 GB and 64 GB capacities, advertising the devices as offering "up to 50 percent faster performance". Macworld has performed speed tests comparing the new iPod touch to the previous-generation model, and found that on a number of tasks the new model does meet or exceed Apple's performance claims.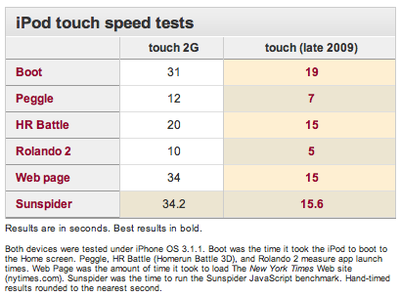 The speed tests conducted were similar to ones
run in June
on the iPhone 3GS, and while the new iPhone running Apple's just-released iPhone OS 3.1 was not included in the latest comparison, the new iPod touch appears to even be slightly faster at some tasks than the iPhone 3GS.
But it's not just in benchmarks such as these where the new iPod wins out. Just as the iPhone 3GS was faster than the iPhone 3G at everything, the new iPod touch feels much faster at any task you throw at it: applications launch (and quit) faster, Web pages load more quickly, processor-intensive games and programs perform better -- you name it.
We'll be testing the latest iPod touch's performance -- compared to both the previous touch and the iPhone 3GS -- for our official review, but it's clear that Apple has beefed up its newest touchscreen device.