New Gallery of Cases for Next-Generation iPod Touch and iPod Nano Posted
Engadget posts a gallery of images showing third-party cases claimed to be for the next-generation iPod touch and iPod nano. The cases, being exhibited by accessory manufacturer Hama at the IFA electronics convention in Berlin, contain holes to accommodate digital cameras expected to be included in the next-generation devices. The iPod nano case also appears to accommodate a wider screen rumored to be offered in the forthcoming model.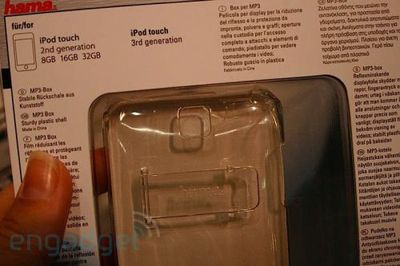 The new cases are
by no means the first
to appear, and a
number of manufacturers
have developed cases of similar design, but the hands-on views and packaging images shown in this latest gallery may be of interest to readers.
New iPods are widely expected to be introduced at next Wednesday's Apple media event in San Francisco.