More Evidence of Cameras in Next Gen iPod Touch and Nano?
Two new images of cases for the upcoming iPod Touch and iPod Nano have begun circulating. The new cases suggest that the next generation Touch and Nano will indeed include a camera.
The first image from Uxsight is listed as a "New iPod Touch 3G" with "hold for a camera in the back" and comes with the following image: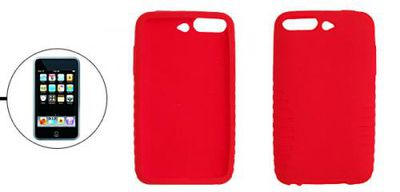 The second case design was
posted
on DealExtreme and shows an "iPod Nano 5" case with another hole in the back that is presumably again for the camera:

The reliability of these early case designs has been mixed in the past. While they have been
accurate
with the iPhone 3G design, they were also responsible for many of the
iPhone Nano claims
which never came true.
Still, the design of the iPod Nano's camera location is consistent with sketches provided by iLounge in May. iLounge also reported that the iPod Nano would be getting a camera with its next revision.