Forum member Jape has discovered a wall entry in Navigon's Facebook page that reveals the navigation company has a car kit for the iPhone in the works. In response to a question from another Facebook user, Navigon states, "...we are working on a kir [sic] kit for the iPhone...more information will follow."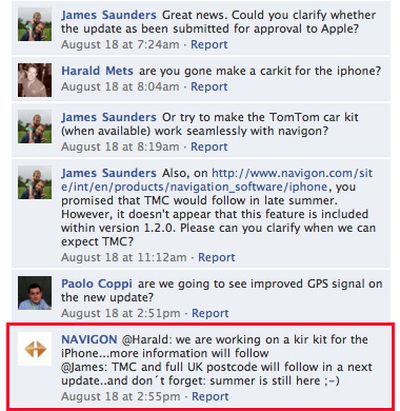 Navigon was one of the first turn-by-turn navigation apps available for the iPhone earlier this summer. TomTom, a major competitor in the navigation space, announced its own app and companion car kit at WWDC in early June, though the app only recently made its debut in the App Store in mid-August, and it was just revealed that the Car Kit will not be available until October.
Navigon's wall post referencing an upcoming car kit was made on August 18, and no further information about it has been provided via Facebook nor in any recent press releases from the company.