Snow Leopard's 'Keyboard Viewer' Sparks Renewed Speculation Regarding Mac OS X-Based Tablet
9 to 5 Mac observed at the launch of Snow Leopard that the Keyboard Viewer feature found in earlier versions of Mac OS X has seen several changes that spark speculation that Snow Leopard may be showing hints of utility for touchscreen hardware such as Apple's much-rumored tablet computer. Notably, the Keyboard Viewer application, used to show keyboard layouts in various languages, can now be enlarged to a size that offers "finger sized" keys.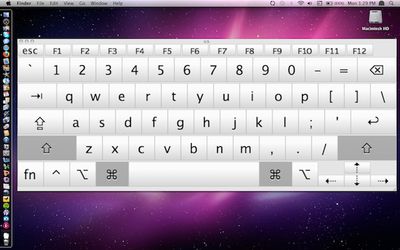 Image from Cult of Mac
Cult of Mac has picked up
on the finding and extended the case to make a more complete argument for Snow Leopard as a touchscreen operating system. First, the report notes that in addition to the large Keyboard Viewer window, the option to activate the feature has been moved from the relatively obscure "International" section of System Preferences to the more prominent "Keyboard" section, hinting at movement toward considering the feature an input device.
The Mac OS has long contained a virtual keyboard, but previous versions were half-sized (see below). The old virtual keyboard was clearly not designed for actual typing, and was hidden away in the "International" tab of System Preferences. (Yeah, the keyboard could be enlarged by hitting the green button in the upper left of the folder toolbar, but still, it expanded to only three-quarter size).
The new virtual keyboard in Snow Leopard now lives under "Keyboard" in System Preferences, and is clearly put there as an alternative input method.
The virtual keyboard can be made as big as your screen -- 30-inches wide, if you have a big Cinema Display -- by dragging the window resizer at bottom left.
Cult of Mac also points to several new Dock features in Snow Leopard such as application-specific Expos functionality and large icons within Stacks as further indications of an evolution toward touchscreen-friendliness.
A multitude of rumors surrounding an Apple tablet launch later this year or early next year have sprung up recently, but little is known about Apple's software plans for the device. While the operating system would presumably be based on existing Apple technologies, sources have yet to come forward confirming whether the tablet will use a Mac OS X-based or iPhone-based operating system.