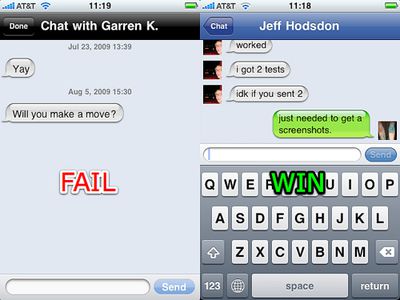 Image courtesy of Joe Stump's Flickr page
Blunder Move's Chess Wars app, which allows users to place chess with Facebook friends via Facebook Connect, has been rejected due to chat bubbles that reportedly imitate those of the iPhone's Messages app too closely, according to the blog of one of the developers, Joe Stump. [Warning: this blog post contains profanity and may be NSFW.]
Chess Wars was initially released in early July, with an update to fix bugs released on July 30. Stump's blog describes that major bugs in version 1.1 required an update that was subsequently submitted to the App Store for approval. This latest update has been waiting in the App Store approval queue for about 6 weeks.
According to his blog, Stump was finally contacted today by Apple with information on the reason behind the approval delay:
They said they were rejecting the application because our in-game chat looked too much like Apple's SMS application. I've asked if we changed our chat bubbles to look like Facebooks if we'd be allowed in. Our contact at Apple is going to be getting back to me soon.
The promised follow-up from the contact at Apple resulted in the latest update to the blog post:
UPDATE: Just got off the phone with Apple while I was writing this blog post and they told me, no joke, that the chat bubbles are, in fact, trademarked. Furthermore, they suggested I could, among other suggestions make them "less shiny."
TechCrunch and other sites have followed this story and helped to provide publicity that likely prompted Apple's direct contact with Blunder Move today.
The current version (1.1) of Chess Wars can be found here (link opens iTunes).