Rogers Wireless Web Page Appears to Confirm 8 GB iPhone 3GS [Updated]
A Rogers Wireless web page appears to confirm last week's alleged screenshots of the company's internal retail software revealing a forthcoming 8 GB iPhone 3GS model. The "iPhone Comparison" tab on Rogers' iPhone 3GS page contains a chart listing the features of the iPhone 3G and 3GS, noting near the bottom that the 3GS is available in 8 GB, 16 GB, and 32 GB capacities.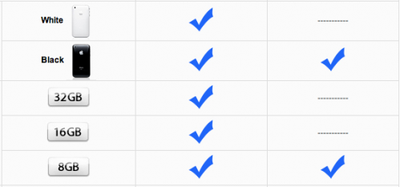 Portion of "iPhone Comparison" chart from Rogers Wireless
(iPhone 3GS on left, iPhone 3G on right)
The comparison chart currently appears to be the only portion of Rogers' public site reflecting the existence of an 8 GB iPhone 3GS model, as other description pages and the site's ordering system list only the 16 GB and 32 GB models.
The screenshots that surfaced last week appear to reveal that Rogers is working to sell through its existing stock of the 8 GB iPhone 3G before transitioning to the new iPhone 3GS at the same capacity. Pricing for the new model remains unknown, and it is unclear whether the new 8 GB iPhone 3GS will be available in all markets.
Update: Rogers has removed the 8 GB iPhone 3GS entry from the table, and Gizmodo has received a report from a Rogers spokesperson claiming that it was posted in error.
You're right, there is no 8GB 3G s iPhone. There is a formatting error on our website. It is being corrected asap
Rogers, however, likely wouldn't be able to confirm the existence of a new iPhone model without the express permission of Apple, which would almost certainly want to make the announcement itself. Whether Rogers is being truthful about the situation or covering for the screenshot leak and a pre-mature publication of the comparison chart, possibly due to its contractual obligations with Apple, remains unknown.