Twitter has been taking the world by storm in the past few months, making headlines with major traditional news outlets and drawing more and more celebrities to its ranks. Multiple Twitter apps are frequently listed in the top selling lists in the App Store, both paid and free. Recent additions and updates to existing Twitter apps in the App Store allow users to even upload videos and voice recordings to share with Twitter followers. There is one sharing route that hasn't been exploited much quite yet, however.
Before, sharing title and artist information for a song you're listening to in the iPod application on your iPhone or iPod touch required you to painstakingly type it out by hand in your favorite Twitter app to share with your Twitter friends. Now, thanks to one of the many new APIs added to the developer SDK announced earlier this year, apps can now pull information directly from the iPod application, making an app like TuneTweet by JBB Productions possible. TuneTweet is just one of a handful of apps that currently offer the ability to publish the title and artist information of whatever you're currently listening to on your iPhone or iPod touch directly to your Twitter account.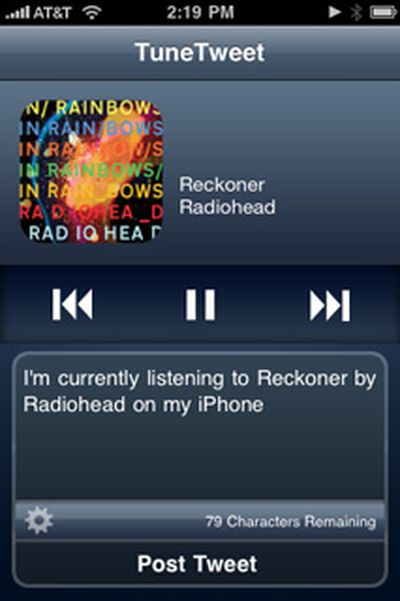 TuneTweet also offers some basic playback controls, allowing you to pause/play or skip forward or backward to the next and previous songs in the current playlist directly in the app. The tweet that's automatically populated with the current title and artist information can be edited further and there's a counter showing the number of characters that can be added to stay under the 140-character limit. Since the automatically-generated title and artist information can be deleted completely, it's also possible to use TuneTweet as a simple tweet publisher.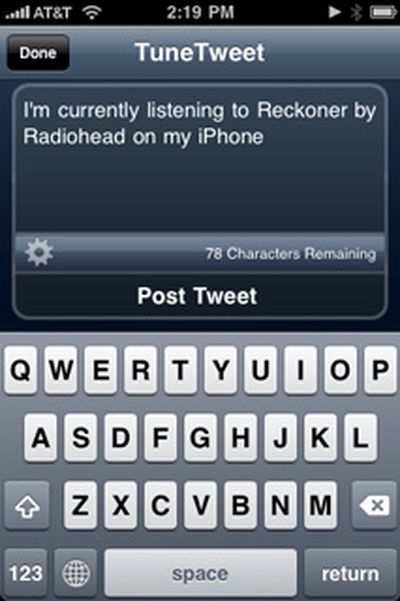 Twitterers who like to share their music and podcast activities with their followers will be happy with how easy TuneTweet makes this task. TuneTweet can be found here (link opens iTunes) and is currently priced at $.99.