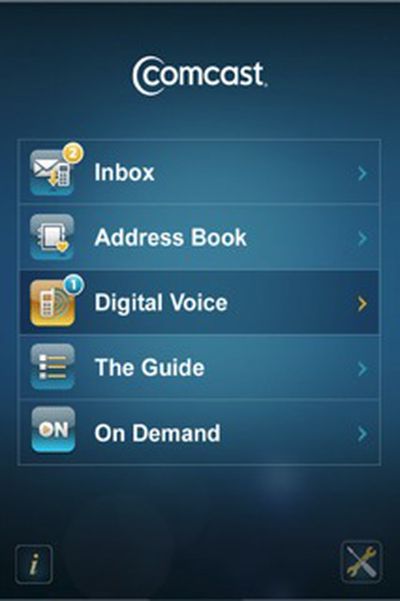 U.S. cable TV and Internet provider Comcast has released Comcast Mobile App [App Store, Free], offering integrated access to the company's Digital Voice, Digital Cable, and High-Speed Internet services on the iPhone. Macworld provides an overview of the application's package of features.
The Comcast Mobile App lets you access your Comcast e-mail, manage your Digital Voice account, peruse Comcast's TV listings, and watch trailers for movies on Comcast On-Demand. The opening interface can be viewed as a list, a grid, or in a CoverFlow-like icon rotation. Shaking the iPhone switches between these three views.
The application offers a "SmartZone" inbox that displays both e-mails and voicemails for Comcast subscribers, viewable either in a combined feed or in separate lists. The application also allows for management of the subscriber's Digital Voice account, providing such features as call logs and call forwarding settings.
Comcast Mobile App also offers television listings, providing the ability to mark shows as favorites, share program descriptions over e-mail, and set reminder alerts for shows. Unfortunately, the application does not offer a DVR interface that would allow subscribers to remotely schedule recordings. Finally, the application offers on-demand viewing of movie trailers. Comcast is reportedly looking at ways to offer additional content beyond trailers, but there is no word on when new content might be deployed.