Apple Seeds OS X Snow Leopard Build 10A394 to Developers
Apple today seeded a new version of OS X Snow Leopard, Build 10A394, to developers. The new build was distributed via Software Update and weighs in at 655.3 MB. The update's description simply states that the new build contains fixes for stability, compatibility, and security.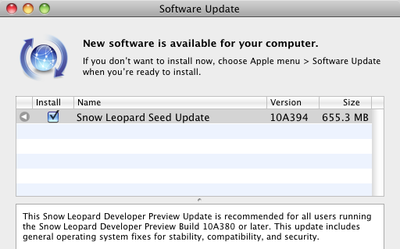 Early reports say that the Dock Expos feature demonstrated at Apple's Worldwide Developers Conference earlier this month is present in the latest build. Users can activate Dock Expos by clicking and holding on a running application's Dock icon to show only that application's windows in Expos. Users can then click the icon of any other running application to switch to that application's Expos windows. Users can also preview any window within Expos by hitting the spacebar while the desired window is highlighted, providing a full-resolution view of the window without actually activating it.