Apple's Share of U.S. Smartphone Ad Requests Grows, iPhone OS 3.0 Adoption Mixed
In its May 2009 Mobile Metrics report released today, mobile advertising firm AdMob revealed that the iPhone and iPod touch now account for 69% of the U.S. smartphone traffic on its ad network. The figure is up from 59% in April and 50% in March. Worldwide, the iPhone and iPod touch now account for 49% of smartphone ad requests.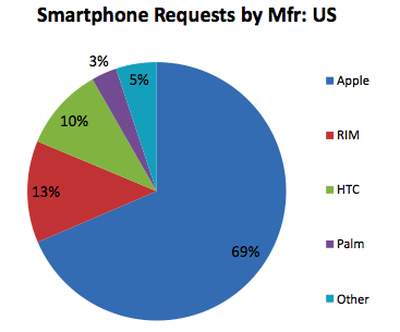 In a
separate report
issued earlier this week, AdMob disclosed that 44% of iPhone ad requests through its network on Saturday, June 20th came from devices running iPhone OS 3.0, demonstrating significant adoption of the new operating system.

Conversely, only 1% of iPod touch ad requests on that date came from devices running iPhone OS 3.0, signaling the chilling effect of the $9.95 upgrade fee on adoption rates. iPod touch users also have less incentive to upgrade from a feature-based perspective, as many of the high-publicity upgrades found in iPhone OS 3.0 are limited to the iPhone hardware.

As always, readers should note that this data is from a single advertising source (albeit the world's largest) and tracks ad requests, which is only one measure of wireless phone traffic. In fact, in a
separate study
of iPhone OS 3.0 adoption rates released this week, one iPhone developer saw up to 80% of its iPhone customers and 50% of its iPod touch customers using iPhone OS 3.0 by this past Monday.