WWDC Tidbits: iDisk iPhone App, No ZFS Support in Snow Leopard Server?
In the wake of yesterday's big announcements from Apple's Worldwide Developers Conference, several smaller items of interest have managed to fly under the radar.
- iDisk iPhone Application: Apple's "More Features" pages for the iPhone 3G and 3GS contain a section entitled "iPhone and MobileMe", which highlights several iPhone-related features for customers of Apple's MobileMe service. In addition to the "Find My iPhone" feature previewed during the keynote, Apple is also prominently featuring a forthcoming iDisk application that will allow users to easily access files stored on their iDisk from their iPhone.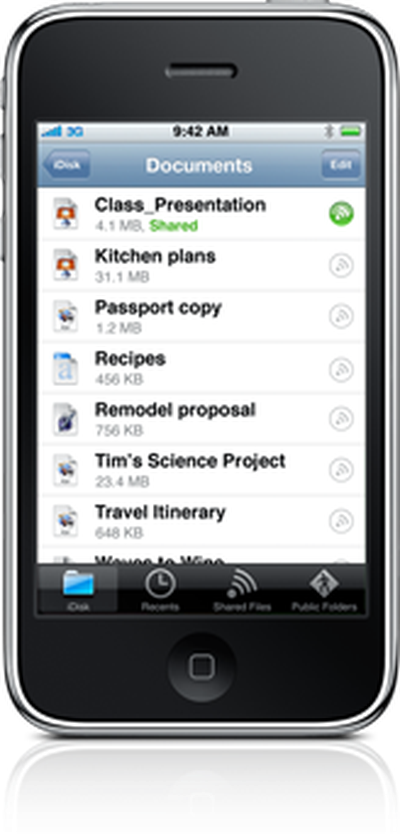 The free iDisk app lets you view files on your iDisk right on your iPhone. Microsoft Office or iWork '09 documents, PDFs, video files, and more are viewable in landscape or portrait. Even access Public folders of other MobileMe members with a few taps.
The free application also allows for easy sharing of files with others.
With the iDisk app -- free on the App Store -- you can share files that are too big to email. Choose your recipients and iDisk sends an email with a link to download your files.
- No ZFS Support in Snow Leopard Server?: Apple's interest in Sun's ZFS file system as a possible replacement for OS X's current HFS+ file system has been an item of interest for several years, with rumors even suggesting that ZFS would be the default file system for OS X Leopard. While that change did not come to fruition, Apple has continued to signal its interest in ZFS and has long mentioned ZFS support as a feature of Snow Leopard Server. Apple, however, has now removed mention of ZFS from its revamped Mac OS X Server Snow Leopard specs page and makes no mention of it on its new OS X Server File System page.