Apple Announces iPhone 3G S, Launching June 19th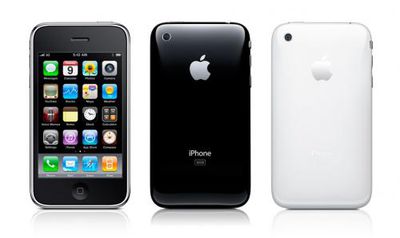 True to rumors, Apple today
announced
that the new
iPhone 3G S
will launch on June 19th in the United States, Canada, France, Germany, Italy, Spain, Switzerland, and the UK. Launches will occur one week later in an additional six countries, with many more launches around the world coming over the next few months.
Appearing almost identical to the iPhone 3G, the iPhone 3G S will be available in both black and white and be priced at $199 for 16 GB models and $299 for 32 GB models for new and qualifying AT&T customers in the United States. Apple will also continue to offer the 8 GB iPhone 3G, priced at $99 for qualified AT&T customers.
Apple today introduced the new iPhone 3G S, the fastest, most powerful iPhone yet, packed with incredible new features including improved speed and performance -- up to twice as fast as iPhone 3G -- with longer battery life, a high-quality 3 megapixel autofocus camera, easy to use video recording and hands free voice control. iPhone 3G S includes the new iPhone OS 3.0, the world's most advanced mobile operating system with over 100 new features such as Cut, Copy and Paste, MMS, Spotlight Search, landscape keyboard and more.
The iPhone 3G S contains many of the features that had been rumored including Digital Compass, Video Recording, Voice Control, 3 megapixel camera with autofocus and faster internet speeds.
Apple has also posted a guided tour of the new iPhone 3G S.
The big remaining issue is how pricing for existing iPhone 3G owners will be. The prices listed above represent subsidized pricing which existing iPhone 3G owners don't appear to qualify for. When the iPhone 3G was released, AT&T did allow previous iPhone owners to buy-in at the subsidized price, but the circumstances were different as the original iPhone had never been subsidized.
Existing iPhone 3G owners may have to pay approximately $200 over subsidized pricing to upgrade: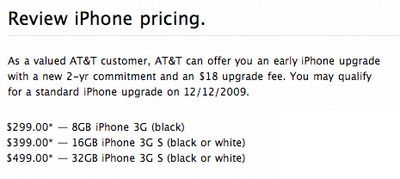 Visit Apple's online store and click "buy" on the iPhone 3G S to see what you qualify for.