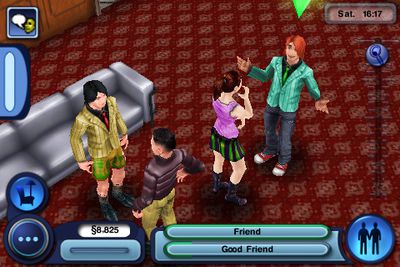 EA's The Sims franchise is one of the most successful video game series of all time, and has come to define the genre of "life simulation" social gaming. The latest release in the series, The Sims 3, launched today simultaneously on Windows, Mac, and iPhone [App Store, $9.99]. TouchArcade offers up a "first impressions" review of the iPhone version of the game, revealing a well-done and worthy addition to the franchise, but one which comes up short in several areas.
At the end of the day, The Sims 3 is a decent downsized port that likely has enough content to keep fans of the series satisfied. It comes loaded with the same quirky AI seen in the previous games, and most of the social options when talking to NPC's seem to have remained intact. Whether or not I'd recommend The Sims 3 largely depends on what you liked out of The Sims games.
The Sims 3 is an extremely ambitious game for the iPhone, even with the limitations it has, but if you're like me, and really enjoyed building elaborate houses, you'll probably want to take a pass. If what you spent the most time doing was cultivating virtual relationships between your Sim and the other Sims in your neighborhood, you'll find yourself right at home once you get the hang of the controls.