Snow Leopard Evidence of Built-In 3G in Future Macs?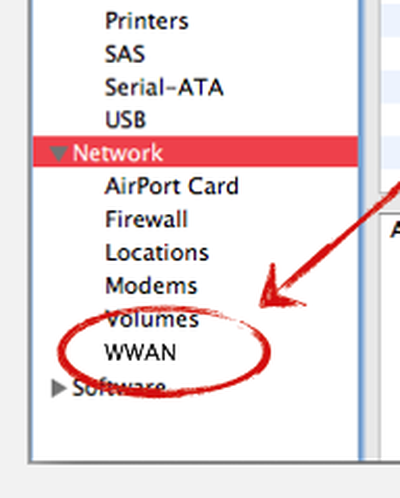 Mockup of OS X Snow Leopard System Profiler (AppleInsider)
AppleInsider reports
that the latest Mac OS X 10.6 Snow Leopard developer builds have broken out "WWAN" (Wireless Wide Area Network) into its own category within the System Profiler. Previously, 3G USB add-on's would appear under the USB category, according to the rumor site.
This suggests that WWAN services (which include 3G wireless networking) may become an Apple-standard technology in future machines. Rumors have previously suggested that Apple is planning on incorporating 3G wireless networking into future Mac notebooks. Further evidence this week includes a 3G-related job listing that was subsequently pulled by Apple.
What might be interesting is that if Apple does incorporate 3G wireless networking into future Apple notebooks, it's likely that we'll see substantial upfront subsidies against the cost of the machines. This could result in significantly discounted hardware when subscribing for 1-2 years of 3G service. While purely speculative, it's possible that this may be related to recent rumors that Apple may introduce cheaper Macs as early as this spring.