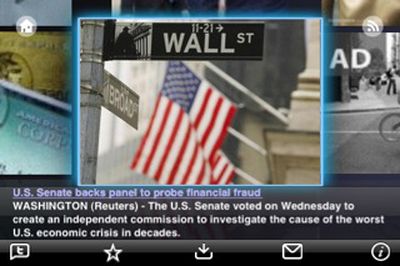 Cooliris has released Cooliris for iPhone 1.4 [App Store, Free], a significant update to its slick application for viewing images and video on the Web via a "3D wall" interface. The update brings a revised user interface, Twitter support, and support for syncing favorites between a user's computer and iPhone, among other changes.
- Complete overhaul of the user interface with larger, more vibrant thumbnails
- Turn Google Safe Search on and off in the new preferences panel
- Twitter Integration - "Tweet" your favorite content directly from the wall
- Access your Cooliris "Favorites" - View, Add and Remove media on the go
- Add and save Media RSS feeds to your Wall
- The speed of loading with the wall has been greatly increased
- Login to your Flickr account using your NSID
- Improved stability and performance
- Much, much more...
The Cooliris series of browser plug-ins for Mac and Windows have recently been updated to version 1.10, and new plug-ins for Firefox 3.0 on Linux have also been added. The new version brings support for local image galleries, revamped Facebook integration, and enhanced display of image metadata.