NVIDIA Announces Quadro FX 4800 Graphics Card for Mac Pro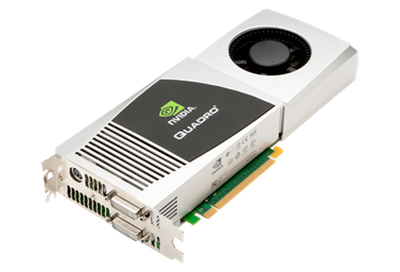 NVIDIA
announced
the release of the Quadro FX 4800 professional graphics card for the Mac Pro today.
With its sophisticated GPU architecture and industry leading features, the Quadro FX 4800 delivers a substantial boost in graphics performance and capabilities, allowing users to continue to push the boundaries of realism and performance in markets such as: architecture, content creation, science and medicine.
The new video card will be on display at the 2009 NAB conference and will become available for purchase in May. The $1799 card carries a number of features targeted at professional uses including:
- Interactive Visualization of Large Models - Offers a massive 1.5GB frame buffer and memory bandwidth up to 76.8 GB/sec. to deliver high throughput for interactive visualization of large models; high-performance for real time processing of large textures and frames; and the highest quality and resolution with full-scene antialiasing (FSAA)
- High-performance Visualization - NVIDIA's(R) CUDA(TM) parallel computing architecture for NVIDIA Quadro GPUs enables breakthrough application performance to enhance creative expression in areas such as video, animation, photography and production
- Dual Dual Link DVI and Stereo Connectors - Outfitted with a dedicated 3 pin min-din connector for stereo glasses support and up to two dual-link DVI digital connectors to drive the highest resolution digital displays available on the market
- Boot Camp Support - Access to native Quadro GPU accelerated professional Windows 3D graphics performance and features when using Apple Boot Camp
According to NVIDIA's site, the card is only compatible with the 2008 or 2009 Mac Pro (MacPro3,1 or MacPro4,1).