Apple Researching Carbon Fiber Composite Materials for Exterior Shells
A patent application from Apple filed in October 2007 and published today reveals that the company is researching the use of carbon fiber composites for use in the exterior shells of electronic devices. Specifically, the patent application relates to the use of a "scrim" layer on the exterior surface of the carbon fiber laminate allowing for an "improved cosmetic surface."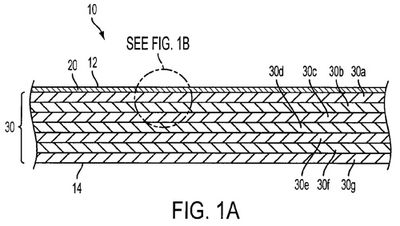 In the background for the application, Apple objects to the appearance of typical carbon fiber composite materials:
Despite the many benefits of carbon fiber composites, such composites are typically black and the carbon fibers are typically visible on the composite surface. In addition, the fibers (either as a unidirectional, woven, or nonwoven substrate) are typically variable in their construction and therefore are variable in their surface presentation. As a result, the resulting carbon fiber composite can have cosmetic imperfections that reduce the aesthetic appearance of the molded article formed therefrom. Further, carbon fiber composites, often being black, provide a narrow range of surface appearance to the molded article and therefore may give a "tired", unexciting look.
Apple's insistence on aesthetic designs has apparently led the company to focus efforts on improving the visual appeal of such carbon fiber composites, which hold significant appeal for notebook computer design due to their strength and light weight.
A rumor from November 2008 claimed that Apple was exploring the possibility of replacing the bottom case of the MacBook Air with a carbon fiber composite in order to shave approximately a quarter pound off of the machine's total weight.