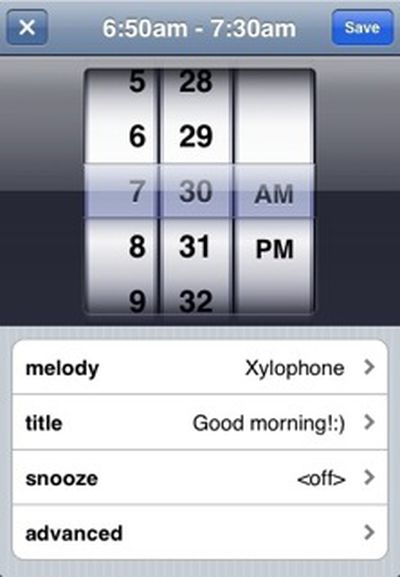 Absalt EasyWakeup [App Store, $9.99] is a unique app that monitors muscle movements in order to wake users at the optimum point in their sleep cycles. The application functions by using the iPhone's built-in accelerometer to detect the minute muscle movements associated with transitions from periods of deep sleep to periods of light sleep while the device is attached to the user's hand or arm.
Users are able to set customized windows of time in which they would like to be wakened, and the application chooses a time of natural wakefulness within that window in which to activate the alarm. This reportedly leads to users waking up feeling more refreshed than if they had been wakened from a deep sleep. Features include:
- Awake at a predefined time like usual alarm clock (supports locked mode aka sleep mode).
- Smart detect the opportune time for awaking (with unlocked mode only).
- Night statistics
- Movement graphs.
- Awake through vibration.
- Setup any melody for alarm (microphone recording support).
- Fade in melody for waking up more easily. (slowly increase melody volume).
- Selectable Snooze (0-10 minutes).
- Setup five different alarm clocks.
- Ignore silent switch.
- Multilanguage support.
- Automatically 24 or 12 hour time format.
- A good support team. =)
The concept behind Absalt EasyWakeup is not new, as devices offering similar functionality have been on the market for several years. One of the more notable devices, SLEEPTRACKER, is a wristwatch currently available in several models with suggested retail price ranging from $149 to $179, although significant discounts can be found from a number of vendors.