China Unicom Web Site Posts iPhone Information, Launching Soon? [Updated]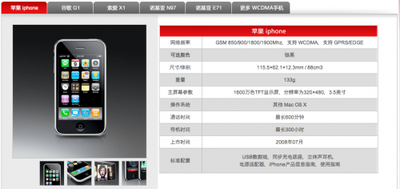 Macworld reports
that a regional branch of China Unicom has
posted information
[
Google translation
] related to the iPhone on their web site.
The information, which listed smartphones supported by the 3G network China Unicom is building, appeared only on the Web site of the company's Shanghai branch and did not say whether the products would be offered in China.
The site's changes follow media reports that a China Unicom delegation visiting Apple last week made a breakthrough in talks over offering the iPhone 3G on its network.
Apple has been trying to bring the iPhone to China, the world's largest mobile phone market, but has struggled to come to agreements with the country's largest carriers. Talks with China Mobile, the country's largest provider, have broken down numerous times, although the company still claims to be in negotiations with Apple.
Apple's efforts with China Unicom, the world's third largest mobile provider with over 125 million GSM subscribers, have apparently proven more fruitful, with previous rumors pointing to a May launch of the iPhone on their network.
Update: TMCnews details a report from Xinhua News saying that China Unicom has confirmed a May 17th launch for the iPhone.