AT&T To Offer No-Contract iPhones to Existing Customers Starting March 26th?
Boy Genius Report claims to have received slides from an internal AT&T training presentation revealing that AT&T will be offering contract-free iPhone 3Gs to existing customers beginning on March 26th. iPhone 3Gs will be priced at $599 for the 8 GB model and $699 for the 16 GB model, and no service agreement or device activation is required.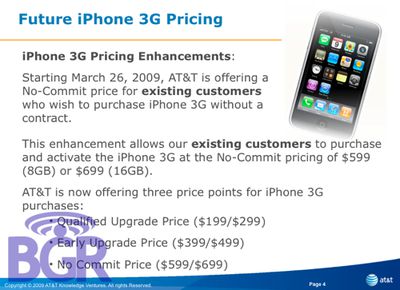 By limiting the "No-Commit" pricing option to existing customers and one per active mobile number, AT&T is apparently aiming to limit the number of phones being purchased for unlocking and use on other networks.
AT&T is restricting the No-Commit price to existing customers who wish to add a line, purchase as a gift, or perform and [sic] upgrade and are not eligible for the Qualified or Early upgrade price.
While AT&T is planning to limit sales to one per active mobile number, the training materials apparently reveal that AT&T has only limited means of enforcing this restriction. Only sales made at company-owned retail (COR) stores will show up in OPUS, AT&T's point-of-sale system. Otherwise, there is no indicator in the billing system denoting such sales.