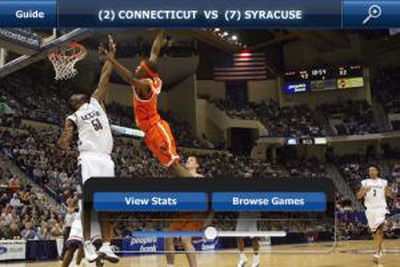 CBS has launched
CBS Sports NCAA March Madness On Demand
[
App Store
, $4.99] for the iPhone and iPod touch, offering a number of features related to "March Madness", the upcoming NCAA Division I Men's Basketball Tournament. Most notably, the application provides live video streaming of all games, but unfortunately the feature is limited to a Wi-Fi connection. Users on 3G or EDGE connections will only receive audio feeds.
Key Features:
- WI-FI LIVE VIDEO STREAMING of NCAA March Madness games from the first round to the NCAA Championship between March 19th and April 6th.
- AUDIO ONLY FOR 3G AND EDGE
- Video highlights on demand from every game
- Real time graphical bracket with updates on game match-ups, regions, and scores
- Exclusive CBSSports.com Edge Matchup game previews, including team-by-team analysis and matchup comparisons
- Breaking tournament news coverage
- Box scores, game recaps, and team stats
The application is only valid for this year's tournament and will expire on April 6th at the conclusion of the tournament.
In addition to the new iPhone application, CBS will be offering its traditional live TV coverage and free online streaming throughout the tournament.