Practicality of Multi-Touch and an Early PowerBook Multi-Touch Keyboard Design
Here at MacRumors, we have had a fascination about the possibility of Apple introducing more advanced Multi-Touch technology into their future Macs and keyboards. This conversation, however, always returns to the question of the practicality and usefulness of this technology.
Looking back at the early days of FingerWorks, it seems that many of these questions had been addressed. FingerWorks co-founder John Elias described the technology back in 2002:
"To observers watching somebody use multi-touch, it looks a little like magic," Elias said, illustrating his point on a computer in Evans Hall. "People see lots of things happening on the computer screen but very little hand motion is observed."
In 2003, one professor found that the Multi-Touch keyboards actually improved data entry speeds compared to standard input:
Hedge has tested the products in the lab and found that people can improve their data-entry speed by at least 50 percent when using gestures instead of the point-and-click motion of the mouse.
FingerWorks had even manufactured a Multi-Touch keyboard replacement for Apple's notebooks called "MacNTouch". The MacNTouch product pages remain on FingerWorks.com, although they are not well linked from the main site.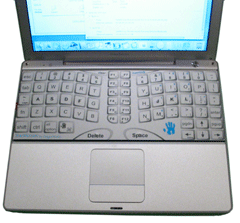 This product gives some insight into the minds of the FingerWorks Multi-Touch designers. These designers, of course, now work at Apple after the company was acquired in 2005. The Mac
N
Touch keyboard was an aftermarket product that offered PowerBook users a full Multi-Touch interface, complete with
Mac OS X drivers
:
MacNTouch Keyboards integrate the functions of a large-area super touchpad, a multi-hand, gesture input command station, and a ZeroForce ergonomic keyboard, all on the same smooth surface.
Apple's ongoing research suggests that they are still looking into the possibility of reviving these technologies in future products.