Leaked Photo of the Next-Generation Mac Mini?
A possible image of the next generation Mac Mini was first posted to a MacRumors forum discussion thread. The image depicts what could be the next Mac mini.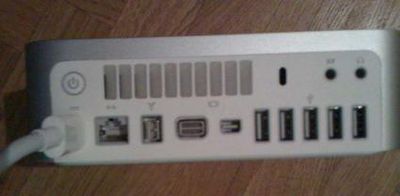 The original leaker also claimed the following specs:
- Intel Core 2 Duo
- 2GHz
- 3MB L2 cache
- 2GB RAM DDR III, 1066MHz
- Super Drive is SATA
The port configuration is consistent with previous rumors that the new Mac mini would bring improved specs. Specifically, the new Mini was described to have 5 USB ports, FireWire 800, and two Display ports (Mini DisplayPort and Mini DVI). All these can be found on the leaked photograph.