MobileMe File Sharing Now Available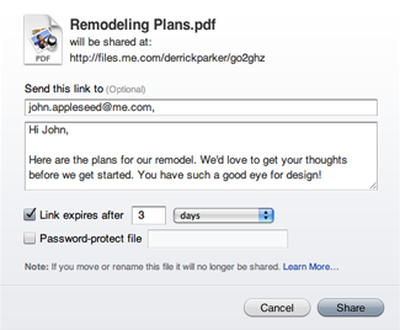 Apple has
announced on their MobileMe news page
that they have enabled file sharing via iDisk.
We're pleased to announce that you can now use your MobileMe iDisk to share files with others simply and easily. Instead of attaching a large document to an email and hoping it's not too big to be received, you can place the file in your iDisk and use the new Share File command in the iDisk web app. It lets you send your friends, family, or colleagues a link they can click to download the file directly. You can password protect the link if you choose to and even set how long it will be available.
Apple has also provided a video tutorial demonstrating the process, which involves simply selecting a file, clicking a "Share File" button, and customizing options and the message to accompany the link to be sent to the recipient.
iDisk file sharing was targeted to be included in the July 2008 launch of MobileMe, but was removed at the last minute, although Apple's iDisk page continued to promise that the feature was in the works.
The MobileMe launch was marred by a series of problems, acknowledged by Steve Jobs and resulting in customers being offered several free extensions to their MobileMe subscriptions. In particular, Jobs expressed regret that Apple had attempted to launch MobileMe in a single, complicated transition rather than in stages.