Apple Researching Sound Sensors for Automatically Adjusting Audio Output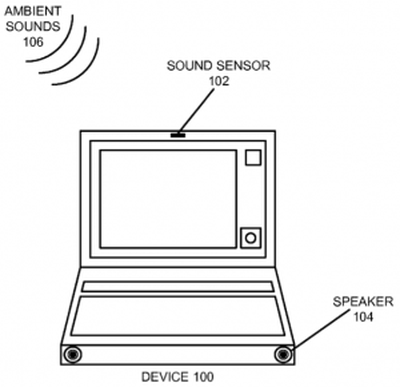 A new
patent application
published today reveals that Apple is researching the use of ambient sound sensors to automatically adjust speaker and mobile phone ringer volume based on the device's environment.
For instance, a user who adjusts the volume of a mobile phone ring tone for a loud environment may later move to a quieter environment, where the loud ring will be disruptive. Similarly, powering up a laptop computer in a quiet lecture hall or home may result in an inappropriately loud and disruptive boot sound. Alternatively, a volume level which is optimized for a quiet environment may not be detectable if the associated device is moved to a louder environment, which can result in a missed audio signal.
The July 2007 patent application, credited to illumination specialist Peter Mahowald, describes a number of different measurements, including maximum, minimum, or average sound level and frequency or type of sound, that could be used as a basis for automatic audio output adjustments. The application also describes an adaptive learning component in which the system would monitor whether a user overrides the system's automatic settings in a given environment and would incorporate the user's preferred settings into its future actions.
While Apple has given no indication that they plan to incorporate this technology into their products, the company already makes extensive use of similar ambient light sensors in the iPhone, iPod touch, and many of their computers.