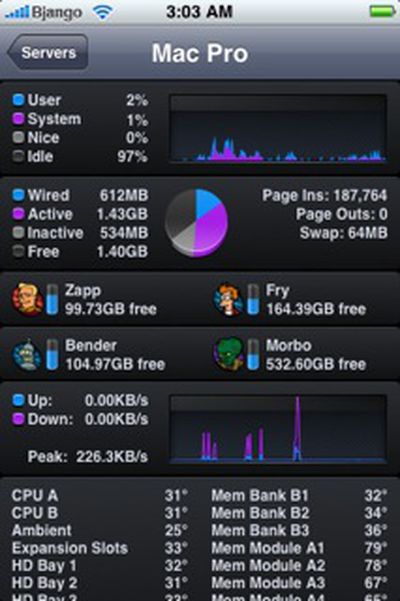 TUAW profiles the upcoming iStat iPhone application from Bjango, part of the team that released the original iStat applications for OS X under the iSlayer name. iStat not only displays basic system and network information for your iPhone or iPod touch, but it can also communicate with desktops and laptops running the free iStat Server application to allow users to monitor system stats remotely.
The information that iStat for iPhone displays will be familiar to anyone who has used either iStat Pro or iStat menus. CPU usage, RAM stats, how much free space exists on your hard drive (or drives), network traffic and heat and fan speeds are all available. Especially useful for server administrators is the Uptime and Load reports.
You won't get details on stuff like battery usage or cycle number, nor can you view the individual processes, but you do get a nice overview of the status of your system.
iStat also offers Ping and Traceroute tools for assistance in diagnosing connection problems while on the go.
iStat Server is free, but requires the iPhone version of iStat to be of use. iStat should be appearing in the App Store soon at a promotional price of $1.99, discounted from the regular price of $2.99.
Update: iStat [App Store] is now available.