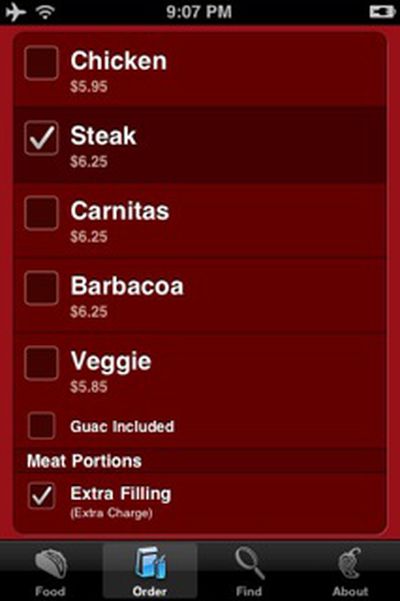 Burrito restaurant chain Chipotle has launched a new free iPhone application, Chipotle Mobile Ordering [App Store], which builds upon their online ordering system launched in December 2005 and revamped this past October. The application allows iPhone and iPod touch users to customize orders from Chipotle's full menu, pay for their food via credit card, and find directions to their nearest location. The app also allows users to save their orders as "Favorites" to simplify future orders.
Apple's interest in the iPhone as a platform for wireless ordering extends back to a patent application filed by Apple in July 2006 and published in December 2007. The first widely-publicized concept images of how an online ordering app might work were published at about the same time by designer Phil Lu, whose mockups of a Starbucks iPhone ordering app drew significant media attention. While a number of restaurants and third-party ordering systems have deployed web applications compatible with the iPhone and iPod touch, Chipotle Mobile Ordering appears to represent the first major release of a native application for this purpose deployed through the App Store.
Update: Chipotle Mobile Ordering has been removed from the App Store for unknown reasons, although users have reported that the app suffered from a number of bugs that may have precipitated its removal.
Update 2: TechCrunch spoke with the app's developer, and learned that unexpected demand had overwhelmed their servers. The goal is to have the app back online in two weeks, with some bug fixes to help things perform even better.
As it turns out, the company decided to pull the application after a few hours because of unexpected demand that was overloading its servers. User requests were timing out with enough frequency that the team decided it would rather hold off until it could offer a more enjoyable and reliable experience. The current goal is to have it back on the App Store in two weeks, along with some cosmetic changes (many of the user reviews that were left while the app was still available had some complaints regarding the user experience).