'Palm Pre' Smartphone Announced: WebOS, Wireless Charging, App Store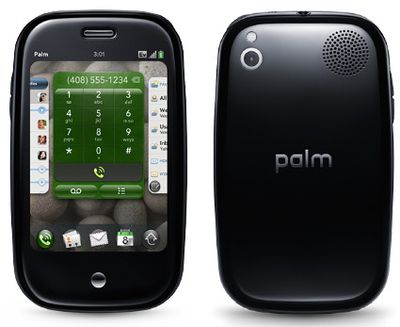 One of the major stories coming out of CES is the revival of Palm with the release of the
Palm Pre
, the first smartphone to be based on their new webOS platform. The Pre, currently planned for a US release on Sprint sometime in the first half of this year, contains a 3.1-inch, 320x480 touch screen, 8 GB of memory, a slide-out QWERTY keyboard, a 3-megapixel camera with flash, built-in GPS, an accelerometer, and Wi-Fi, 3G, and Bluetooth connectivity.
The Pre represents a break from Palm's existing Palm OS and will be unable to run existing Palm OS applications. Instead, Pre developers will develop using browser technologies including CSS, HTML and XML along with special APIs to access the hardware features of the new device. And of course, an "App Store" for third-party applications will also be accessible from the phone.
Gizmodo was impressed by the Pre in their hands-on preview, in which they highlighted the responsiveness of the Webkit-based browser and overall user interface. They were also impressed with screen and camera quality. The minor downsides they found included a lack of video recording and a lack of browser support for Flash, although several sources are speculating that Adobe and Palm are working on a Flash plug-in.
The Pre includes several features that iPhone users have been clamoring for, including copy-and-paste, MMS messaging, and the ability to allow applications to run in the background. The Pre also offers the option of Palm's Touchstone wireless charging station. The Touchstone technology, which requires an additional back cover for the Pre itself, charges the Pre's internal battery via magnetic induction when the device is laid on the charging station.
Pricing is yet to be announced, although Palm CEO Ed Colligan suggested that it would not come in significantly under the iPhone's $199 price point. In fact, Russian Mobile-Review blogger Eldar Murtazin, who previously provided accurate information on the cancellation of Motorola's RAZR 3, claims that the Pre will be priced at $399 with a Sprint contract. He also claims that a GSM version of the phone is reportedly due for release in the UK in the second half of 2009, a fact confirmed by Paul Ghent, vice president of sales for Palm Europe.