Macworld: White Covered Banners, Keynote Rehearsal Spy Shot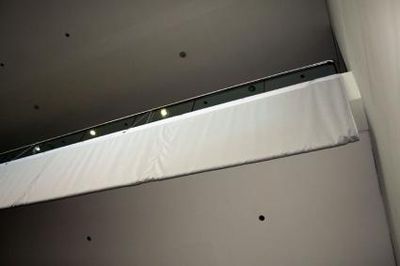 Photos from AppleInsider
While we were initially disappointed by the
lack of an Apple teaser
banner at Macworld Expo, it appears Moscone is littered with banners that are covered behind white tarps. These banners will presumably be revealed after Apple delivers their keynote address. Phil Schiller will be delivering the keynote address on Tuesday, January 6th at 9 a.m. Pacific.
AppleInsider was able to get a number of photos of the covered banners as well as a true "spy shot" of the keynote rehearsal:

We snapped a photo of the rehearsal live feed through the open door in Mira's mobile unit. The individual on stage wasn't Schiller, and actually looked more like Al Gore or Intel chief Paul Otellini. Probably just a random tech guy...
Macworld San Francisco kicks off next week. First time attendees may find useful information at Macworldbound.com, an unofficial guide to Macworld Expo. MacRumors will provide live keynote coverage as well as ongoing floor coverage throughout the week.