Macworld: 'Even the Small Talk Will be Big', Update: White Covered Banners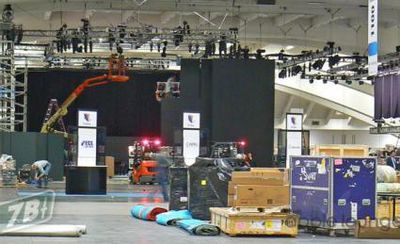 SetteB.IT has posted two sets (one and two) of photos from the preparations for Macworld Expo 2009.
While the banners are not particularly revealing, Apple's booth area is shrouded in black cloth as is typical prior to the event. One Macworld sign spotted on the street reads "even the small talk will be big":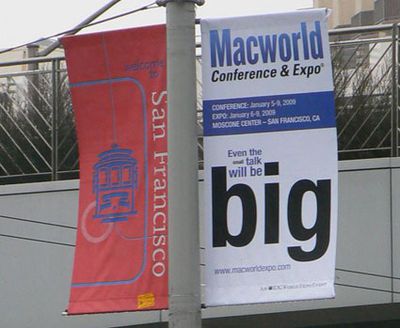 This, however, appears to be an IDG-sponsored banner rather than an official teaser from Apple and reflects Macworld's
website promotion
that "small talk is the biggest talk we do".
There do not appear to be any Apple teasers like last year's "There's Something in the Air" banner.
Update
: There are covered white covered banners throughout the hall which should have the new announcements hidden behind them.
Finally, the exit sign shows the dates for next year's Macworld San Francisco (Jan 4-8, 2010) with the words "The start of a new era" -- acknowledging Apple's decision to stop participating in future Macworld Expos.