MacRumors and iPhone Alley 'Macworld Finale Bash'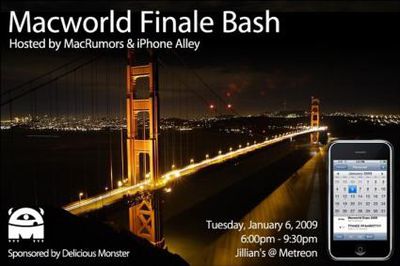 As this could very well be the last Macworld event, MacRumors.com is co-hosting a "Macworld Finale Bash" with
iPhone Alley
on the evening of the keynote speech -- Tuesday, January 6th, 2009.
The party/meetup will be held at Jillian's restaurant (map) across from Moscone West. Open to all ages, there will be free food and giveaways, but you're responsible for your own alcohol. It will run from 6:00pm to 9:30pm. So, join us for some in-person post-keynote commentary (and iPhone Nano complaining).
The event is kindly sponsored by Delicious Monster, the Mac developers behind the critically acclaimed Delicious Library cataloging software. Try it out and visit their Macworld booth (#2602).
Facebook users can RSVP on the Facebook event page, though this is not required.