Evidence that Next iMacs and Mac Minis to use NVIDIA Chipsets
Configuration files buried within some versions of Mac OS X show evidence that the next iMac and Mac Mini will indeed be based on the NVIDIA MCP79 chipset. Apple recently switched their MacBook, MacBook Pro and MacBook Air models to the NVIDIA chipsets in October. Amongst other benefits, the new notebooks have much improved graphics card capabilities, which make them more suitable to take advantage of OpenCL technologies coming in Snow Leopard.
Apple will apparently be bringing these improvements to both the new iMac and Mac mini. While many have expected the iMac to receive these upgrades, the fate of the Mac mini has been less certain.
A configuration file found in the Mac OS X version that ships with the new MacBook and MacBook Pros reveal entries referencing unreleased "MacMini3,1" and "iMac9,1" models. The relevant lines have been excerpted here: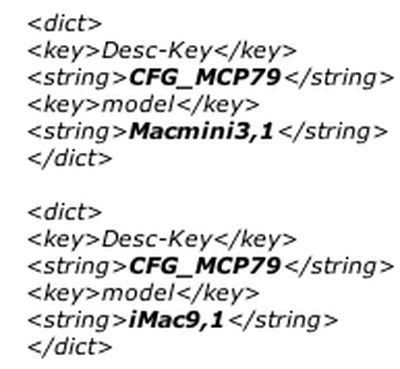 The CFG_MCP79 appears to refer to the NVIDIA MCP79 chipset, which suggests these unannounced models will use this new chipset. The currently shipping iMac and Macmini carry model numbers of iMac8,1 and Macmini2,1. The findings were originally described in a forum post that we've subsequently verified. The references are found in System -> Library -> Extensions -> IOPlatformPluginFamily.kext -> Contents -> PlugIns -> ACPI_SMC_PlatformPlugin.kext -> Contents -> Info.plist in the new MacBook or MacBook Pro.