First Impressions of Apple In-Ear Headphones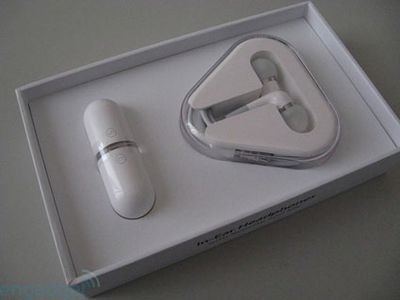 Image from
Engadget
After months of delay, Apple's
In-Ear headphones
have started arriving to customers. Here are some early first impressions of the $79 headphones:
Gizmodo - "After a history of offering lackluster earbuds, Apple has come through with a product that sounds really good and is reasonably priced, all things considered. The balanced sound and dual drivers makes all the difference in the quality factor."
Engadget - "Imagine our surprise, then, at the discovery that they not only sound really, really good (warm lows and crisp highs, a distinct lack of that modern, pushy mid-range), but they do work with the iPhone (the 3G we've got here, at least). "
CNet - "They don't quite have the crisp, high frequency detail of the Etymotic HF2 headphones I had at my desk, but they blow away Apple's stock earbuds (not too difficult a feat) with a buttery low end and pleasant mids and highs."