Apple Exploring Liquid Notebook Cooling Systems for Cooler Laps
MacNN reports on a newly published Apple patent application which details ongoing research into alternative cooling systems for notebook computers.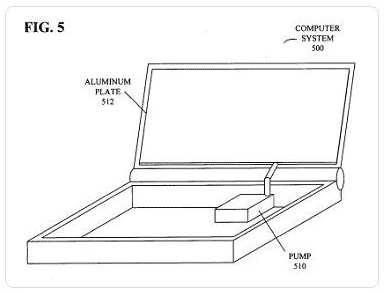 Specifically, Apple explores the possibility of a liquid cooling system for their notebook computers.
Current MacBooks use air cooling, driven by internal fans; while this is sufficient, it is thought that future components -- such as faster video cards and quad-core CPUs -- may force Apple to use more efficient (and possibly quieter) cooling. Active and passive methods are being suggested.
Apple suggests that the heat could be dissipated through an aluminum plate located behind the computer's display. This positioning would help reduce the amount of heat transmitted to the user's lap. This issue has received some press after Apple warned that "prolonged contact with your body could cause discomfort and potentially a burn."