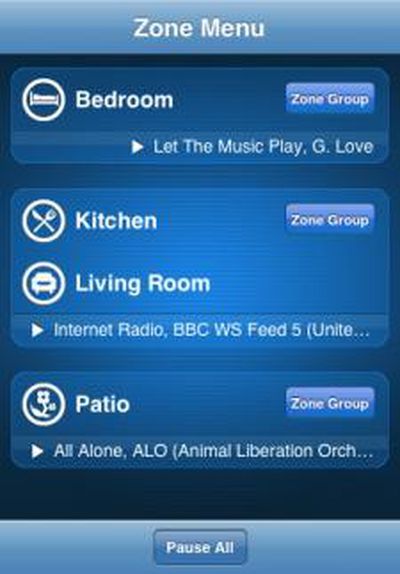 This one's only useful for those with Sonos hardware that provides music to multiple rooms in your house. Though, the iPhone app seems cool enough that you might actually consider buy the required hardware after seeing it.
With Sonos and an iPhone you can instantly access all the music in your personal collection, including your iTunes playlists, plus thousands of free Internet radio stations. And Sonos works seamlessly with the most popular online music services, including Last.fm, Napster, Pandora, Rhapsody and SIRIUS, so you can listen to millions of songs in every room. Play the same song all over the house in perfect synchronization. Or let everyone in the house listen to exactly what they want rock in the kitchen, local news in the bedroom and jazz in the living room. Simply grab the iPhone and pick a room, point and flick to pick a song, and then hit play.
The video demo gives you an overview of the functionality. Essentially you can control the music to your entire house from your iPhone or iPod touch.
App Store Link: Sonos Controller, Free