Intel Mobile Processors to be Refreshed in April? Nehalem Soon After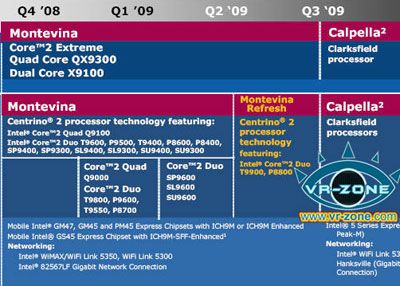 Recently
leaked roadmaps
from
VR-Zone
indicate that Intel will be updating their mobile processors in Q2 2009.
Digitimes
pinpoints the updates for April.
The company will launch two processors along with the new platform, the Core 2 Duo T9900 and P8800.
These new processors will top out at 3.06GHz and likely be suitable for use in Apple's notebook line. The current MacBook Pro tops out at 2.8GHz.
However, shortly after their release, Intel will be migrating from the Montevina platform to Calpella in Q3 2009. This shift marks the move to the Nehalem (Core i7) based architecture which we've previously described. Nehalem is said to represent a major jump in performance due to many underlying changes in technology.