New Mac Part Numbers Found in Future Shop's Inventory? [Update]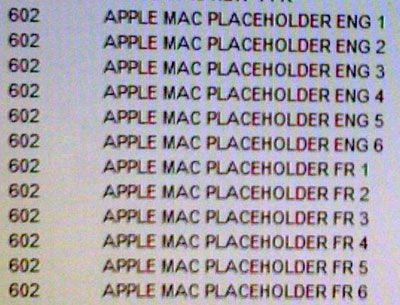 According to an anonymous report, six new Mac placeholder SKUs have appeared in
Future Shop's
inventory system. While we've been unable to independently verify this at this time, the placement of early "placeholder" part numbers is consistent with
inventory practices
of some major retailers.
In February, we saw MacBook Pro part numbers in Best Buy's systems about 3 weeks before the release of the new MacBook Pros. Future Shop is a Canadian subsidiary of Best Buy.
Apple has been rumored to be planning new releases for their laptops (and maybe iMacs) before the holidays. The last rumored date pinpointed October 14th for the launch.
Update: According to one BestBuy poster, these SKUs were set up without any knowledge from Apple with only the circulating expectations that Apple would be releasing notebooks in the near future. As a result, there can be no conclusions drawn from this inventory change, except what we already know, that Apple is expected to release new notebooks in the near future.